Digital Marketing Agency in Nepal
One of the top digital marketing agency in Nepal is Sharda Production. We are the best digital marketing agency in Nepal. We offer services such as social media marketing, search engine optimization, and pay-per-click advertising to help businesses increase their online presence and reach their target audience. We also specializes in website design and development, as well as online advertising and branding. Sharda production has a proven track record of success and have worked with a variety of clients in Nepal and beyond.
To fully run a successful digital marketing agency, there are many aspects to take into consideration. Some important factors include conducting market research, creating a strong brand, developing a comprehensive content strategy, building a website optimized for SEO, utilizing social media platforms, implementing effective advertising campaigns, measuring and analyzing data, and continually adapting to industry changes.
Digital Marketing Agency works and advantages
It's also important to have a skilled team with diverse backgrounds in order to cover all areas of digital marketing. Overall, it requires a lot of hard work, dedication, and attention to detail to succeed in the digital marketing agency world.
Here are some potential areas where we focus as a digital marketing agency:
1. Social media management
2. Search engine optimization
3. Content creation (blog posts, videos, infographics, etc.)
4. Email marketing
5. Paid advertising (Google Ads, Facebook Ads, etc.)
6. Website design and optimization
7. Analytics and reporting
Sharda production provides a wide range of services from above topics. We are well organized digital marketing agency in Nepal.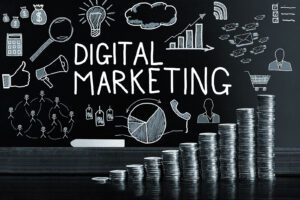 Digital Marketing Agency in Nepal
We work to promote products and services through various online channels such as social media, search engines, email marketing, and more. Our main focus is to drive traffic and conversions for their clients' businesses while utilizing data to consistently improve performance. We also offer a variety of services such as SEO, PPC advertising, content marketing, and social media management to accomplish their clients' goals.
Sharda production also offers several advantages such as expertise in different digital marketing platforms, access to advanced tools and technologies, saving time and money, and personalized marketing strategies. We can also help businesses increase their online visibility, generate more leads, and achieve higher ROI.
Digital Marketing Agency in Nepal
There are many advantages to hiring a digital marketing agency. For one, a digital marketing agency can bring expertise in a wide range of digital marketing tactics, including search engine optimization (SEO), pay-per-click (PPC) advertising, social media marketing, and email marketing. This can save your business time and money by not having to hire and train multiple employees for each of these areas.
Additionally, we can provide you with a fresh perspective on your marketing strategy and help you stay up-to-date with the latest trends and technologies. Finally, an agency can provide you with detailed analytics and insights into your marketing campaigns, allowing you to track your return on investment (ROI) and make informed decisions moving forward.
Digital marketing agencies have several advantages for businesses, such as providing expertise in online marketing, keeping up with industry trends and algorithms, offering a wide range of services, and providing measurable results and analytics for campaigns. They can also often save businesses time and resources by managing their digital marketing efforts.
Sharda production is the best digital marketing agency in Nepal. Do contact us.
Mobile number: 977- 9808042707 (Whatsapp or viber),
Email address : [email protected]
Also visit following pages for more information:-
Digital Marketing Agency in Nepal
Video marketing Agency in Nepal
Social Media Marketing Agency in Nepal