Digital Marketing in Nepal: A Rising Tide of Online Opportunities
In recent years, Nepal has been experiencing a significant digital transformation, and with it, a surge in digital marketing activities. This beautiful Himalayan nation, known for its stunning landscapes and rich cultural heritage, is now emerging as a promising hub for digital marketing. This article explores the current landscape of digital marketing in Nepal, the opportunities it presents, and the challenges it faces.
 The Digital Landscape in Nepal
 Internet Penetration
Nepal, once considered an isolated nation, has seen remarkable progress in internet penetration in recent years. According to the Nepal Telecommunications Authority, as of 2021, there were over 30 million internet users in Nepal, with a penetration rate of approximately 39%. The widespread availability of affordable smartphones and improved connectivity in both urban and rural areas have contributed to this growth.
 Social Media Usage
The younger generation in Nepal is increasingly turning to social media platforms. Facebook, Instagram, Twitter, and YouTube are among the most popular platforms. This surge in social media usage has opened up new avenues for digital marketing, allowing businesses to engage with their target audience effectively.
 Mobile Usage
Like many countries in the region, Nepal has experienced a surge in mobile device usage. With the affordability of smartphones and data packages, more Nepalese individuals are accessing the internet via their mobile devices. This trend is vital for digital marketers, as it enables them to create mobile-friendly campaigns and reach a broader audience.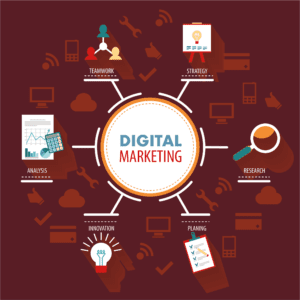 The State of Digital Marketing in Nepal
 Growing Demand for Digital Marketing Services
The increased internet penetration and social media usage have given rise to a growing demand for digital marketing services. Businesses in Nepal are realizing the importance of establishing a strong online presence and are eager to explore digital marketing strategies.
 Emerging Digital Marketing Agencies
As a response to the increasing demand for digital marketing services, many agencies have emerged in Nepal. These agencies offer services such as search engine optimization (SEO), pay-per-click advertising, social media marketing, content marketing, and more. Some of the notable digital marketing agencies in Nepal include Web Search Professionals, Digital Terai, and BroadLink Digital.
 In-House Digital Marketing Teams
In addition to digital marketing agencies, many businesses in Nepal are developing in-house digital marketing teams. This trend highlights the long-term commitment to digital marketing and the recognition of its importance in the growth of businesses.
 Influencer Marketing
Influencer marketing is gaining momentum in Nepal. Local influencers, often referred to as "Nepal's Instagram stars," are collaborating with businesses to promote products and services. This strategy is proving effective in reaching the younger audience who idolize these influencers.
 Content Creation and Localization
For successful digital marketing campaigns in Nepal, creating and localizing content is key. This involves translating content into the Nepali language, understanding local customs and cultures, and tailoring content to resonate with the Nepalese audience.
Also visit:
Digital Marketing Agency in Nepal
Video marketing Agency in Nepal
Social Media Marketing Agency in Nepal
Opportunities in Nepal's Digital Marketing Landscape
 E-commerce Boom
Nepal has witnessed a surge in e-commerce activities. The COVID-19 pandemic accelerated this trend as consumers turned to online shopping. Businesses that invest in digital marketing can tap into this growing market and expand their customer base.
 Tourism Promotion
Nepal, known for its stunning landscapes and cultural heritage, has vast potential for tourism promotion through digital marketing. Travel agencies, hotels, and tour operators can leverage digital marketing strategies to attract both domestic and international tourists.
 Education and E-Learning
The education sector in Nepal is also seeing a shift towards digital platforms. Educational institutions and e-learning platforms can harness digital marketing to reach students and promote their services.
 Healthcare Marketing
The healthcare industry in Nepal is rapidly adopting digital marketing to reach a wider audience. Telemedicine services, health-related apps, and hospitals are utilizing digital platforms to connect with patients.
 Political Campaigns
Digital marketing is playing a significant role in political campaigns in Nepal. Political parties and candidates are using social media, email marketing, and targeted advertising to reach voters and convey their messages effectively.
 Real Estate and Property
The real estate market in Nepal is growing, and digital marketing can help property developers, real estate agencies, and individuals looking to buy or sell property to connect with potential customers.
Also visit:
Google marketing agency in Nepal
Instagram marketing agency in Nepal
Animation video company in Nepal
Facebook marketing agency in Nepal
Challenges in Nepal's Digital Marketing Landscape
 Limited Internet Infrastructure
While internet penetration is on the rise, Nepal still faces challenges with limited internet infrastructure, particularly in remote areas. Slow internet speeds and unreliable connections can hinder the effectiveness of digital marketing campaigns.
 Language Barriers
Nepal is a diverse country with numerous languages and dialects. Effective digital marketing campaigns require addressing these language barriers and creating content that resonates with various linguistic groups.
 Lack of Skilled Professionals
Despite the growing demand for digital marketing services, there is a shortage of skilled professionals in Nepal. Many businesses struggle to find experts who can design and execute effective digital marketing campaigns.
 Data Privacy and Security
Nepal is in the process of establishing data protection regulations. Concerns about data privacy and security can affect the trust of internet users, making it essential for businesses to prioritize data protection in their digital marketing efforts.
Tips for Successful Digital Marketing in Nepal
 Understand the Local Culture
To connect with the Nepalese audience, it's crucial to understand the local culture and values. Incorporate elements of Nepal's cultural heritage into your digital marketing campaigns to make them more relatable and appealing.
 Focus on Mobile Optimization
Given the high prevalence of mobile device usage, ensure that your website and content are mobile-optimized. A responsive design will help reach a broader audience.
 Multilingual Content
Create content in multiple languages to address the linguistic diversity in Nepal. Nepali, Maithili, Bhojpuri, and other languages spoken in the country should be considered.
 Leverage Social Media
Utilize social media platforms to engage with your audience. Develop creative and engaging social media content to build a strong online presence.
 Partner with Local Influencers
Collaborating with local influencers can be an effective way to reach a wider audience. Ensure that influencers align with your brand values and target audience.
 Stay Informed About Regulatory Changes
Keep a close eye on regulatory changes related to data protection and digital marketing in Nepal. Compliance with these regulations is essential to maintain trust.
Also visit:
Digital marketing helps to grow business
Online marketing helps to increase sales
Digital marketing is different from traditional marketing
Advantages from digital marketing
Case Study: A Successful Digital Marketing Campaign in Nepal
To illustrate the potential of digital marketing in Nepal, let's examine a hypothetical case study of a successful campaign for a travel agency.
Client: Himalayan Adventures – A local travel agency specializing in trekking and adventure tours.
Objective: To increase brand awareness and bookings for their trekking packages.
Strategy:
Local Content Creation: Himalayan Adventures created visually stunning and culturally rich content featuring the landscapes and local traditions of Nepal. They utilized both English and Nepali languages to cater to a broader audience.

Social Media Marketing: The agency used Facebook and Instagram to showcase their content. They ran targeted ads to reach adventure enthusiasts and travelers interested in Nepal.

Collaboration with Influencers: Himalayan Adventures partnered with popular travel bloggers and local adventure enthusiasts. These influencers shared their experiences with the agency's trekking packages, creating a buzz in the travel community.

Search Engine Optimization (SEO): They optimized their website for keywords related to trekking in Nepal, ensuring it appeared in relevant search results.

Engagement with
 Audiences: The agency actively engaged with its audience on social media, responding to inquiries and comments promptly.
Results:
Himalayan Adventures' digital marketing campaign led to a 40% increase in bookings for their trekking packages within six months. The agency's social media following also grew significantly, helping them establish a robust online presence.
Future Trends in Nepalese Digital Marketing
As digital marketing in Nepal continues to evolve, several future trends are expected to shape the industry:
Video Marketing
Video content is gaining traction worldwide, and Nepal is no exception. Short videos, live streaming, and video ads will play a more prominent role in digital marketing.
Virtual Reality (VR) and Augmented Reality (AR)
As technology infrastructure improves, businesses in Nepal will explore the use of VR and AR for immersive marketing experiences.
Data-Driven Marketing
Data analytics and personalized marketing will become increasingly important. Businesses will leverage data to understand customer behavior and deliver targeted campaigns.
Sustainability and Social Responsibility
Nepalese consumers are becoming more conscious of sustainability and social responsibility. Digital marketing campaigns that highlight these values will be well-received.
Voice Search Optimization
With the proliferation of voice-activated devices and virtual assistants, optimizing for voice search will become essential for SEO.
Conclusion: Digital Marketing in Nepal
Nepal's digital marketing landscape is on the rise, presenting numerous opportunities for businesses to connect with their audience and expand their reach. However, it's essential to navigate the challenges effectively, such as language diversity and limited infrastructure. By understanding the local culture, optimizing for mobile, and staying informed about regulatory changes, businesses can succeed in the ever-growing world of digital marketing in Nepal. As Nepal continues its journey into the digital age, the opportunities are boundless, and the potential for growth is substantial.
Whether you're a local business looking to expand your reach or an international company exploring the Nepalese market, digital marketing is the way forward. The breathtaking landscapes of Nepal are not the only thing worth exploring; the digital frontier is equally captivating and promising.